John O'Sullivan & Sons - Painters and Decorators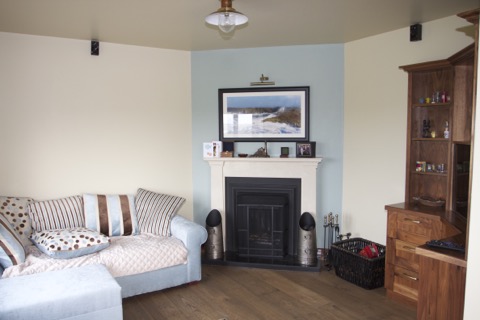 Testimonials
What our customers have to say about us
Happy commercial clients include the Office of Public Works, AIB, Cork County Council, Skibbereen Arts Centre, the West Cork Hotel, Cope Foundation and dozens and dozens of other retailers and business owners.
Happy residential customers include David and Patsy Putnam, Jonathan Self, Kay Calnan, Flor McCarthy, Rosemary Mulcahy and dozens and dozens of other homeowners throughout Munster.
Happy ecclesiastical customers include TBA.
Here is just a selection of testimonials.
Excellent craftsmen
This is the first time I have availed of the firm's services. I have been delighted with the speed with which they completed the job, the tidiness of their work, the value for money and, most importantly, the quality of the actual painting.
Rosemary Mulcahy, Douglas
I won't use anyone else
John O'Sullivan and Sons first worked for me in 1995. Since then builders working on the house have occasionally insisted I use other firms, and I have always regretted it. I am currently planning a major renovation and when the time comes I won't use anyone other than John O'Sullivan and Sons.
Jonathan Self, Drombeg
Worth the difference
Time and again I used slightly cheaper firms and always ended up regretting it for a variety of reasons including lateness, untidiness, promises not kept and poor quality of workmanship. In the end I decided to spend a little bit more with John O'Sullivan and Sons and the difference is amazing. They are fast, efficient, friendly… and they clean up after themselves. Best of all, the finished result is fantastic. If you want your home to look stunning this is the firm to use.
NAME
It's transformed our business
The O'Sullivan painters transformed our frontage and did an excellent job on the signage.
Ann Cahalane, Skibereen
Cork County Council recommended
John O'Sullivan & Sons painters have completed various projects for Cork County Council and in my opinion they are very professional hardworking company who pay particular attention to detail and safety.
I would have no hesitation in recommending them as their work is of the highest standard.
John Tobin, Cork County Council
We have been delighted with the work for over 35 years
We have been dealing with the O'Sullivan family for over 35 years; we have always found them most obliging and professional in their work. As we carry out business on a dangerous busy street they always take the greatest of care in safety matters. They are also most facilitating towards our customers and the general public while they paint. The quality of their work is excellent and often remarked on. We would highly commend as most competent tradesmen.
Levis and Sweetnam, Skibbereen
The finish is excellent
I have engaged quite a number of painters over the years mainly to decorate Churches and related buildings. The best I could say for most of them was that their work was ordinary. My experience with John O'Sullivan & Sons, however, has been altogether different. They prepare everything with the utmost diligence and care. The finish is excellent. It is not surprising that they are much sought after.
Fr. Donal Cahill, Leap